Unboxing Sino-doll SI-152 with A10 head aka ›Amanda‹
Unboxing Sino-doll SI-152 with A10 head aka ›Amanda‹
Unboxing Sino-doll SI-152 with A10 head aka ›Amanda‹
Hi,
in this thread I will post an Unboxing review of Sino-doll SI-152 body style with A10 head aka ›Amanda‹. The SI-152 is a life-sized silicone
love doll
with a specified body height of 152 cm and a body weight of 28 kg.
This will be the follow-up review for Unboxing Sino-doll SI-172/H body style & S4 head from November 2018. In the past months I have been in continuous contact with David Lee from Sino, and he kept me well updated about all the recent developments.
Configuration:
S152cm body
skin color tan
vagina built-in/fixed
ultra-soft vagina option
skeleton with standing and shrugging
bikini lines
finger/toe nails #2 or #6 (matching lip color)
nipple color #2 or #3
areola size #2 (medium)
no pubic hair
no tattoos
A10 head/Amanda
eye color #1 or #6
with eye mechanism
wig like on promo photo or otherwise #8
lip color like on promo photo
In this particular case I decided to order a different doll as replacement so I could take a look at a more popular body style and focus on the unique strenghts of Sino-doll.
Here is a comparison of the customizations I ordered: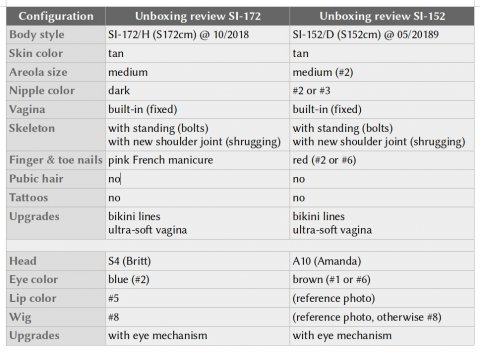 All options that are identical should be directly comparable and show the development from the past half year.
The order of the review sample was placed in the beginning of May.
Sandro
Related content
Similar content as discovered by similarity of classification:
Related forum topics
Similar forum topics as discovered by similarity of classification: