Unboxing Sino-doll SI-162/D body style with S30 ›Linyin‹ and S31 ›Chris‹ heads
Unboxing Sino-doll SI-162/D body style with S30 ›Linyin‹ and S31 ›Chris‹ heads
#1
14. November 2019 - 22:05
Unboxing Sino-doll SI-162/D body style with S30 ›Linyin‹ and S31 ›Chris‹ heads
Hi,
in this thread I will post an Unboxing review of Sino-doll SI-162/D body style with S30 aka ›Linyin‹ and S31 aka ›Chris‹ heads. The SI-162/D is a life-sized silicone love doll with a specified body height of 162 cm (with head) respectively 149 cm (without head) and a body weight of 34 kg.
I decided to order yet another Sino-doll for a review because some things came together:
Sino released several life-sized heads I liked; the only downside of the beautiful S10 aka ›Amanda‹ head is it's relatively small size, so I was looking for a bigger replacement;
there were now two interesting body styles - the SI-158 and the SI-162 - which were both a little bit taller than the the otherwise flawless SI-152; and
Sate's review on TDF raised a couple of questions I needed to be answered for my customers (and myself).
This is Minghao's depiction of Sino-doll's SI-162/D body style together with the S30 head aka ›Linyin‹: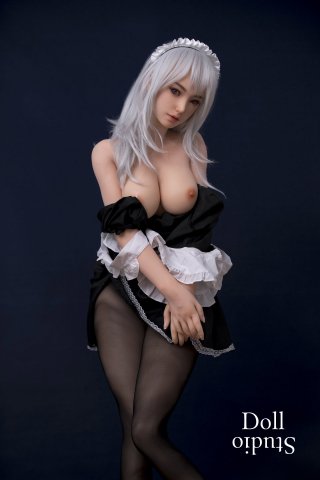 More pictures from this photo set are here: New arrivals: Sino-doll SI-162/D body style - silicone / 162 cm / 34 kg
This is the configuration I ordered:
Body style: S162 cm
Skin color: normal/natural (same as promotion photos)
Vagina built-in/fixed
Ultra-soft vagina option
Skeleton options: standing without bolts, shrugging shoulders
Finger and toe nails: pink French manicure
Nipple color: (same as promotion photos or #2)
Areola size: (medium)
No pubic hair, no tattoos, no bikini lines
For the head it took a while to decide between S30 and S31. Linyin (S30) is a a friendly face; she's perfect in Minghao's promotion photos, and she's a developed doll character which would be interesting to see cloned. Chris (S31) has a mouth I like better, but she appears very different, depending on the photo respectively makeup. Sometimes I love her overall expression, sometimes I do not like her expression at all. Finally I decided for the safe bet - S30.
Head 1: S30 aka ›Linyin‹
Skin color: normal/natural
Eye color: #4 (brown)
With eye mechanism
Wig: (same as promotion photos - long, grey)
Lip color (same as promotion photos)
In the beginning of November, Charmy posted this comparison picture on Twitter: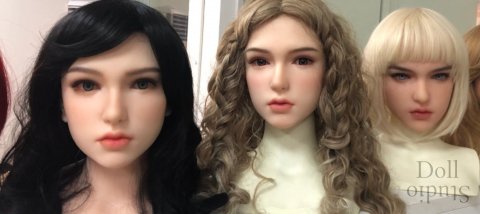 According to Sino-doll, it is possible to choose the facial makeup based on a reference photo. So I finally added the S31 head to my order, with makeup like the S31 variant in the middle of the picture above.
Head 2: S31 aka ›Chris‹
Skin color: normal/natural
Eye color: #7 (blue-green)
With eye mechanism
Wig: #1 or anything long, blonde
"Exactly the same makeup as reference photo"
Among the things I am particularily interested in this review are the following questions:
How is consistency of manufacturing quality? Is the doll similarily good as the SI-152/D from last review?
How close do we get by 'cloning' a character from promotion photos? Does it work good enough to let the factory mimic customization options from a reference photo?
How good is the standing without bolts option? Can it be used for everyday purposes, and is it a full alternative to pegs for standing?
This is the experienced turnaround time:
The order was placed on October 11th, 2019.
Added S31 head on November 5th to the order.
Received factory photos on November 15th, 2019.
Expected time for international transit and customs clearance: 2-3 weeks.
So the approximate lead time to make a Sino-doll with two heads is roughly around one month; that's similar to the lead times of other Chinese silicone doll makers like Doll Sweet or Hitdoll/Ildoll.
The two successor reviews to this unboxing were:
And here are the factory photos.
Sino-doll SI-162/D body style with S30 aka ›Linyin‹ head: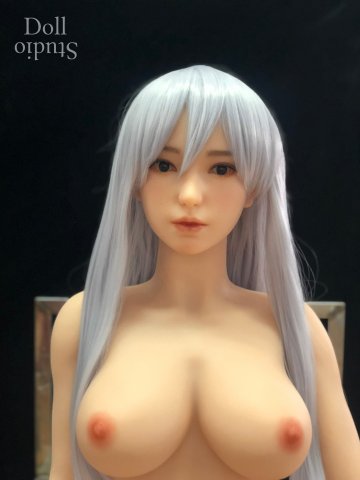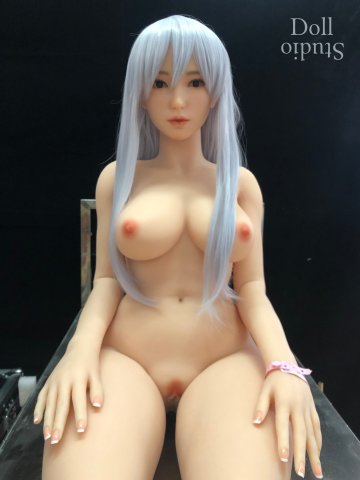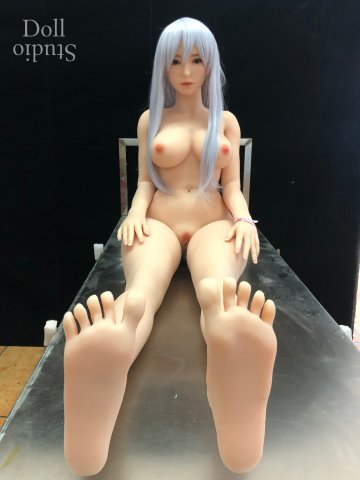 Sino-doll S21 aka ›Chris‹ head: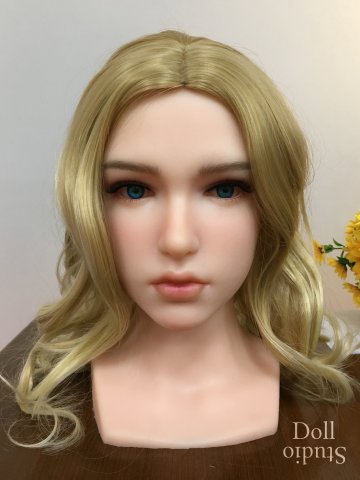 Some details of the neck connector: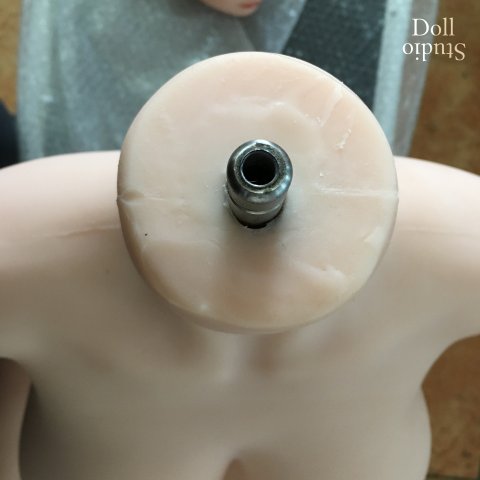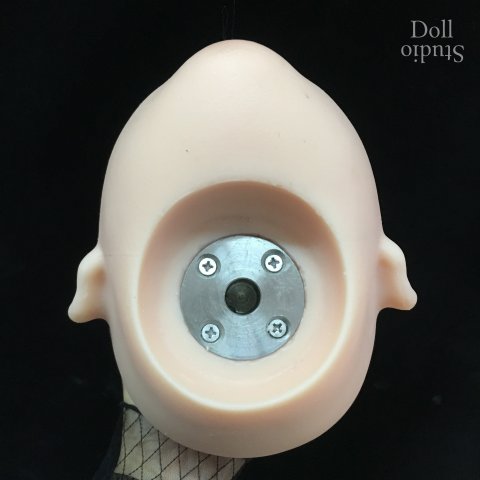 And last but not least a picture to see the shrugging shoulder option: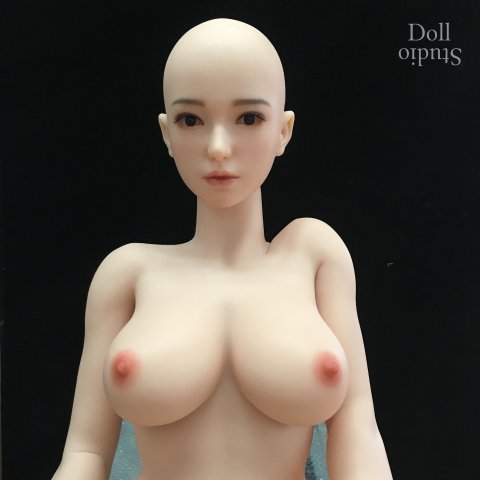 One factory photo request Sino-doll was not willing to fulfill – they won't let the doll stand to demonstrate the standing without bolts option:
Regarding the doll standing's photo […] in order to protect the doll won't be damaged in the accident, I couldn't make the doll standing and take photo for your view […]
I guess that can mean two things: Either the factory wants to be careful and not to scratch the soles of the feet for a factory confirmation photo; or Sino-doll does not fully trust in the 'standing without bolts' option. So this will be an topic we'll look into more closely.
Last but not least, as always in my reviews a footnote for ethical reasons: As it has been established recently in quality magazines, revievers disclose if they have received a free sample or other benefits for the review. In the spirit of this transparency I am disclosing that – as always – my samples are paid orders. So this review will not be biased by any 'returned favours'.
Sandro
https://twitter.com/DollStudioEU/status/1195007113598324738?s=20
Related content
Similar content as discovered by similarity of classification:
Related forum topics
Similar forum topics as discovered by similarity of classification: