Unboxing Gynoid GT-165/86 with Jì xiāng head (纪香) aka Model 7
Unboxing Gynoid GT-165/86 with Jì xiāng head (纪香) aka Model 7
Unboxing Gynoid GT-165/86 with Jì xiāng head (纪香) aka Model 7
Hi,
a couple of days ago, I arranged another Unboxing review. The product I will be reviewing in a few weeks is a Gynoid "纪香-model7" aka Ji Xiang. Please see my remarks below for this imperfect transliteration, I am not sure yet if she will keep this name.
According to mfr. specs, Gynoid "纪香-model7" is a silicone doll with a body height of 165 cm and a body weight of 34 kg. The weight has been confirmed with an allowed deviation of +/- 3 kg, but without explicitely stating if the total weight includes the head. So I am assuming the total weight includes the head and the expected weight of the whole doll is between 31 and 37 kg.
Gynoid, formerly known as Artificial Human and RZRZN, is a Southern Chinese manufacturer of silicone dolls. It is a newcomer, they are around for about two years. Their dolls have a couple of unique features, most notably that the limbs are removable, and the fingers are jointed so the hands are to some degree articulated, and some models have seamless (fixed) heads. The company also uses the brand name RZR (人造人, rénzào rén) which basically means "artificial human" or even "cyborg", and the brand logo shows the signe 人造人科技 (rénzào rén kējì) which translates to something like "artificial man technology". Names like this show ambition and that makes even more curious.
This topic will be as well introduce this new manufacturer as their new type of silicone doll – model 7 has fixed legs but removable arms and an exchangable head. Also, this doll has articulated (jointed) fingers. As far as I know, this is a total novelty in the sex doll market, though articulated fingers have been around in other doll types for a while. In these other doll types, materials like resin or vinyl are being used for the 'skin'. I have not yet seen a silicone doll with articulated finger joints, so yes, I am excited.
This is the lady I am expecting in a couple of weeks: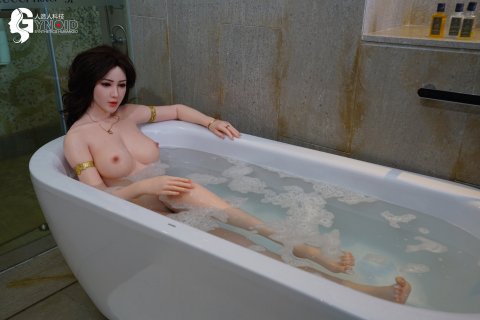 In Gynoid Tech's catalog she has a virtual "profile". I am qutoting:
Age: 22
Blood type: AB
Birthday: 20 Nov.
Constellation: Scorpio
Height: 165cm
Weight: 34kgs
Cup: C
BWH: 86/61/90cm
Her name 纪香 transliterates to Ji Xiang (chin. Jì xiāng) or jap. Ayaka. The signs are also part of Norika Fujiwara's native name (藤原纪香). According to Wikipedia, Fujiwara is a popular Japanese beauty queen, model and actress. Also, Ji Xiang written with different signs and a similar transliteration but with different tones (Jí Xiáng) is a Chinese (male) football player. In Mandarin, different tones denominate completely different meanings, so Jì xiāng and Jí Xiáng is not the same. When she has arrived, I will ask her if she wants to be called Jì xiāng, Ayaka or something else.
Here is the configuration as per order confirmation from Gynoid Tech.:
Skin color: not customizable, so: standard
Skeleton: standard skeleton, with standing option
No public hair
Vagina: fixed (built-in)
Depth of vagina canal: 18cm
Head: 纪香 aka Ji Xiang
Eye color: brown (tan)
Wig: random color/type
Remarks about the configuration:
For the skeleton, the options are available: standard, tight, and loose. I asked for the variant best suited for posing and standing.
For the vagina, there are four depths available: 10 cm, 13 cm, 15 cm, and 18 cm.
For the eye color, there are two options available: tan, and grey.
I asked if skin color, body makeup, and finger/toe nails could be customized. Gynoid Tech. did not answer that in the pre-ordering phase, so that usually means "no" or "not yet at the moment". The same applies for two questions about the eyes – are they removable, and which diameter do they have? No reply about that, either, so we'll see about that in the sample.
Together with my order from April 26th I summarized what I expect to get:
The doll is posable and can hold different positions, e.g. she can sit with her butt onto a chair and does not fall off;
wrists, ankles and neck are properly hinged;
shoulders can shrug;
the doll can stand either on her own feet (ideally), or on bolts poking through the soles of the feet (like TPE dolls);
head and arms are detachable and (firmly) re-attachable, so they do not fall off by itself; when attached, silicone on arms aligns properly with shoulders;
the eyes are movable
fingers in the hands are articulated and have joints;
face and body makeup is permanent and does not rub off when cleaning or showering;
weight of doll with head is 34 kg ± 3 kg (about 10% variance).
As always, this is a payed doll which has been explicitely ordered for a review. Also, this is my first order from the manufacturer Gynoid Tech., so I will probably talk about the ordering process as well.
Unless something completely unexpected happens, this will be an in-depth review which will span across several days.
Sandro
Related content
Similar content as discovered by similarity of classification:
Related forum topics
Similar forum topics as discovered by similarity of classification: