Unboxing Gynoid GT-165/86 body style with Jì xiāng head (纪香) aka Model 7 revisited
Unboxing Gynoid GT-165/86 body style with Jì xiāng head (纪香) aka Model 7 revisited
#1
15. January 2020 - 1:40
Unboxing Gynoid GT-165/86 body style with Jì xiāng head (纪香) aka Model 7 revisited
*** Please note: This is a draft ***
Hi,
this is a follow-up Unboxing review to Unboxing Gynoid GT-165/86 with Jì xiāng head (纪香) aka Model 7 from May 2019.
The first sample showed impressive strengths, but also it had a couple of severe weaknesses. Most notably, several joints loosened within days, the doll was not engineered for standing, there were limitations with sitting, and repair attempts turned out to be not feasible as no common silicone
adhesive worked on Gynoid's silicone blend.
Getting a replacement turned out to be a challenge; the (paid) sample had to be shipped back to China, I had to pay another $520 for shipping costs, and producing the replacement literally took months (September until December). So this was a test in patience, especially since communication with GT is fragmentary – getting an answer sometimes took a couple of weeks, and some questions were never answered.
Anyway, the replacement has now arrived. Since I won't run through the whole review process again, this post will be rather short and focus on differences to the first shipment.
1) Pre-shipping process.
The first doll was returned to China in September 2019. Except for the info stated in tracking, I did not get feedback when and in which condition the return shipment arrived at Gynoid's facilities. Though, getting some experiences for a shipment to mainland China would have been interesting as this is a rather unusual route – these days, almost all dolls travel the other way around, from China to Europe or North America.
On November 9th I got a note from GT that the replacement would be ready for shipping within "about 10 days". On December 2nd (almost a month later) I got a note from GT that the replacement would be ready for shipping within "about 3-4 days". I don't know what caused this additional delay; Model 7 is a complicated doll, so may Gynoid Tech took some extra time to double check if everything was alright this time, or maybe the factory just forgot to process the doll.
Upon completion, I did not get factory photos or a factory video of the completed doll, neither in the November nor in the December note.
This is a bit sad as I consider the day I get factory photos as the doll's birthday as it's her first documented lifesign.
Also, the lack of factory confirmation photos is rather disadvantageous as there it leaves absolutely no way to tell what you will get – neither if the factory got the configuration right nor how the cardboard box looked before departing from China. If a manufacturer skips even this little effort, the only comprehensible QC step is omitted.
For the first sample, I did not get factory confirmation photos, but at least a short video. So compared to the first shipment, leaving this QC step out is a decline.
2) Shipping & Packaging.
According to tracking, the doll departed on December 11th. Shipping took excessively long; to some degree this delay might have been caused by Christmas and (Solar) New Year holidays, though none of my other shipments were so heavily affected. Traveling from China to Germany can take nothing more than three days (e.g. from Dalian to Berlin with DHL Express and my own DHL Express account, without shipping agent involved), so a full month is very unusual. However, the two-part shipment finally arrived on January 8th and 13th.
That's part one: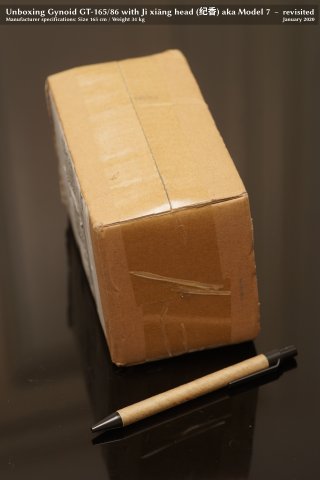 The first sample had arrived as a one-part shipment, so this is another novelty. Shipping two packages is a new 'game' by Chinese shipping agents; they virtually split heavy shipments into several smaller packages. According to tracking data, my two packages were 10 kg each. But that's not what is actually shipped, one box had a volumetric weight of about 60 kg and the other one was a very small and completely empty package with an actual weight of 70 grams. Yes, that's less than a bar of chocolate.
As far as I can tell, GT is not responsible for this nonsense; my last Sino-doll arrived similarily split into virtual packages. Since Chinese shipping agents currently control approximately 99,99% of all doll shipments out of mainland China, so there is no way around it. Chinese doll makers do not have export permits, so everybody depends on these shipping agents for any egress shipment with above de-minimis value. Though, how shipments depart from China depends on the shipping agent used by the doll maker. As far as I can tell, not all Chinese shipping agents are playing these two-part-shipment games yet.
The downside for the customer is that he needs to receive two packages which usually do not arrive on the same day; also the customer does not know which one will be the package with the actual product. I don't want to imagine how someone feels if he gets the empty box first and nobody explains what is happening…
Packaging was identical with the first shipment, including the fabulous "ERECTION PROHIBITED" label…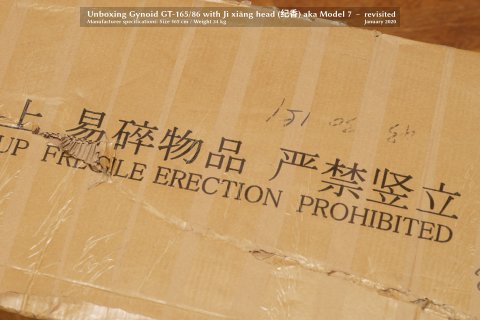 The outside of the box had the usual dents and scratches which do not automatically indicate a shipping damage, so don't be overly alarmed in case you get such a box. Usually, inside the cardboard is another layer of protective padding which prevents that the contents of the box is affected.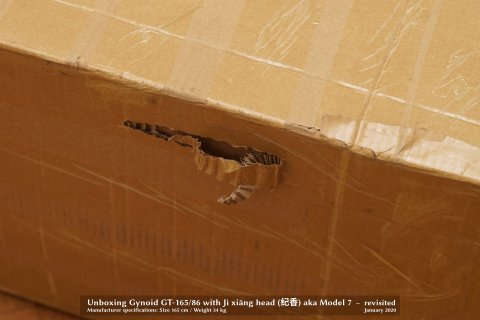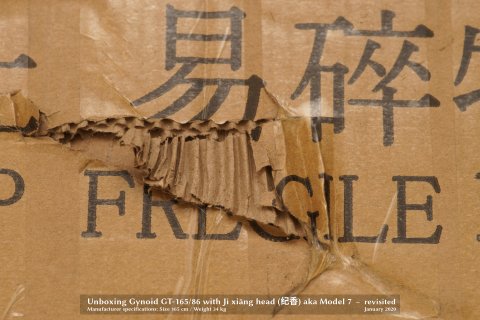 3) Padding & Wrapping.
That's exactly what I saw when opening the package (nothing added, nothing removed):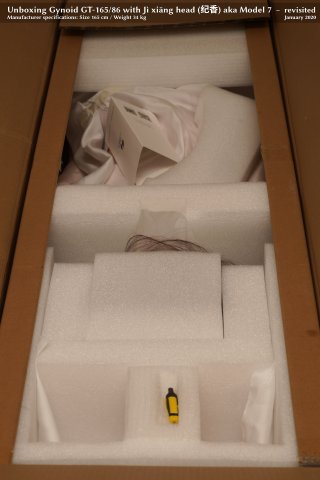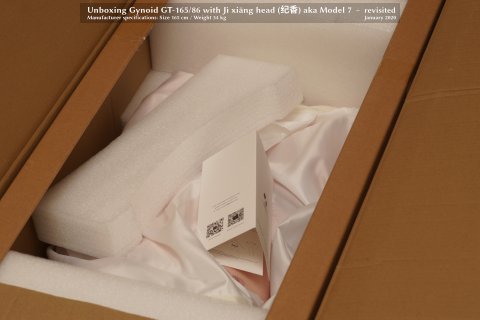 One styrofoam block floating around, some reinforcements on the sides, the doll partially visible.
Like encountered in the first shipment from last year, the styrofoam layers did not cover the whole inside of the box: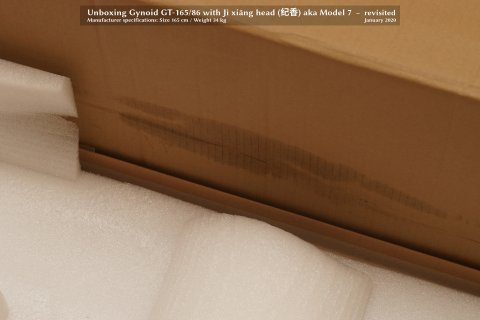 I have no idea why the styrofoam layers are not left in one piece. Also, the doll is not wrapped in a plastic bag, so areas where she came in contact with the cardboard have grease stains.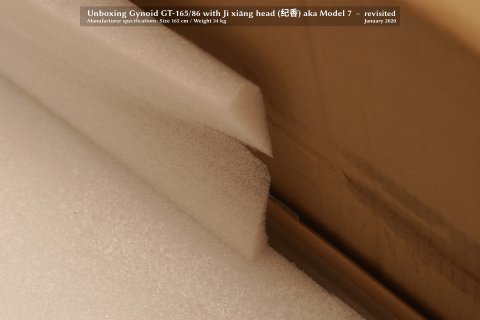 Neither the delicate hand with their jointed fingers, nor the feet are separately packaged. No other supplier I am aware of does with so little protective wrapping.
Exactly like in the first shipment, the head was not protected with anything but hard styrofoam blocks: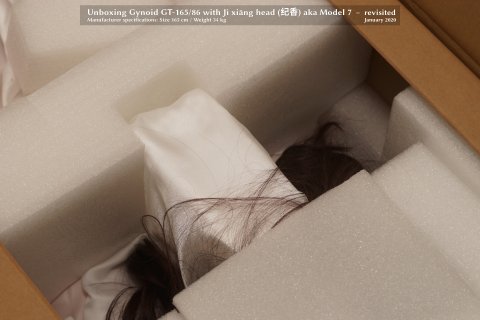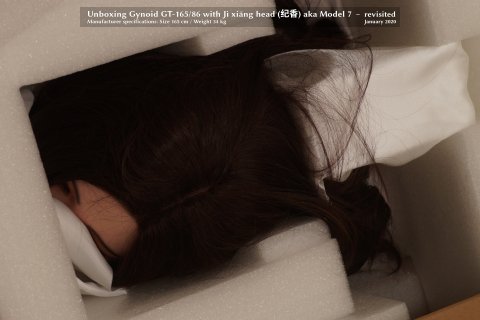 The only enhancement compared to the first shipment was a metal tool which was not floating around freely this time: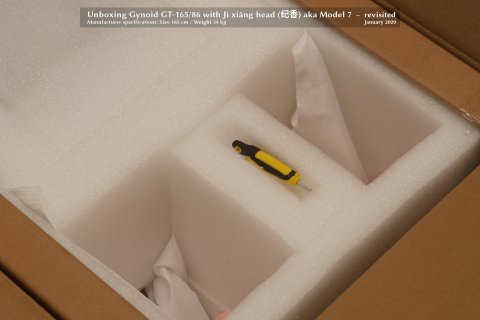 Some of the styrofoam blocks are compartimentalized: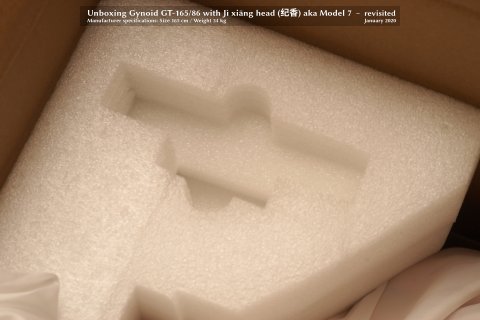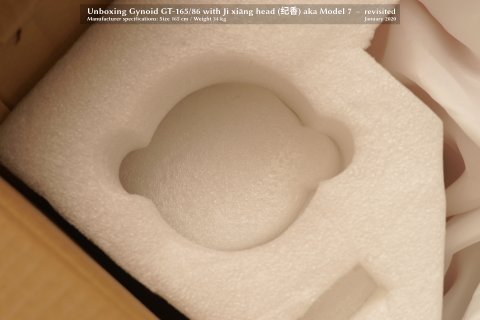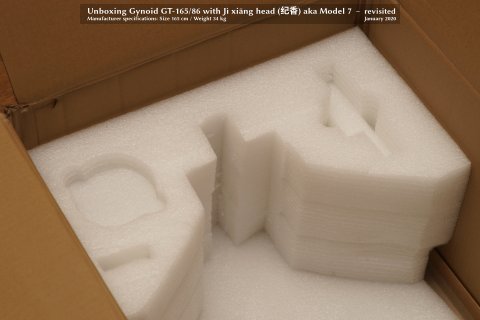 All compartments were empty and I do not have the faintest idea what they are supposed to do.
In a nutshell, packaging and padding was not enhanced compared with the shipment from last year. What you get in regard to protecting your expensive purchase is clearly not what a customer expects from a $4,000+ purchase.
However, there was no shipping damage, so shipping, packaging and padding is not necessarily a dealbreaker.
4) Manual / Documentation / Instructions.
Again, no changes here – the doll comes with a leaflet written in English. It's the same leaflet I got half a year ago, and I still suspect that the usage instructions are outdated. However, GT did not reply to my questions if the manual is up to date, so here is the first bummer:
According to the section "Legs movement", the legs must not be moved more than 70 degrees forward. That means that the skeleton and/or silicone might not be designed for sitting since this requires a forward angle of the hip joint of at least 90 degrees. So the GT-165/86 doll is not permitted to sit, if you follow the enclosed usage instructions.
Since the hip joint was among those joints which loosed within a couple of days of (moderate) posing, it is possible that the joints loosened because I let the first sample sit for a posing session. So this time I will stick to to the usage instruction and not let the doll sit. However, not being able to sit is a most severe limitation for my use case, so the lack of sitting capability is a dealbreaker for me.
(continued in next post)
Related content
Similar content as discovered by similarity of classification:
Related forum topics
Similar forum topics as discovered by similarity of classification: